5 Cost Effective Ways to Renovate a Hotel
Get a uniform hotel look with exterior building wraps
Reduce hotel utility bills with sun-blocking window films
Comfortable guest rooms with heat-and-glare reducing window film
Give guests peace of mind with privacy film
Custom graphics, logos, and labels
Renovate a Hotel Without Breaking the Bank!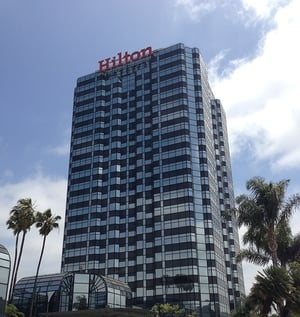 Hotel guests expect a comfortable and modern experience with the latest trends in decor and privacy. But hotel renovations raise a few issues, such as the finished look inside and out, and improving guest comfort while also saving money and reducing costs.
Renovation typically involves new paint, artwork, and carpet, but these are just the start: window film is an additional renovation option that is both affordable now and saves money in the long run. Let's look at different areas to use window film!
Get a uniform hotel look with exterior building wraps
The most beautiful hotels stand out with a flawless exterior that's both uniform and eye-catching. You could opt for new paint and window treatments, but that's a lot of work. Instead, exterior building wraps quickly transform the look of your hotel.
Building wraps include window film, exterior vinyl film for spandrel glass, and painting mullions and hard surfaces. Solar Art can either bring your architect's vision into reality, or you can talk to our in-house creative team about our most popular wraps.
Reduce hotel utility bills with sun-blocking window films
When you install window film, not only will your hotel look great but it'll save you money every month. All of our window films—from exterior wraps to individual windows—reflect sunlight, making your whole hotel cooler, more energy-efficient, and more environmentally-friendly. It's a smart way to cut cooling costs and pass that savings onto your guests.
Comfortable guest rooms with heat- and glare-reducing window film
No one wants to come back to a stuffy hotel room because the windows let sunlight in all day. And if guests are in their rooms during the day, they'll want to enjoy the views, so closing the drapes isn't an option. With window film, your guests can enjoy more comfortable rooms without sacrificing views, and they won't need the AC. Additionally, our window films reduce bright, painful sun glare which makes it easier to watch TV or look out the window.
Give guests peace of mind with privacy film
A major concern for guests is privacy, as that beautiful glass lets as many people see in as can see out. Whether your guest rooms face busy streets or your modern fitness center has glass wall or windows, you can affordably increase your guests comfort anywhere with privacy window film.
We offer a variety of privacy films for different needs. Tints and translucent colors are great where some—but not total—privacy is needed. One-way mirror films and darker tints are great for fitness centers and guest rooms.
Custom graphics, logos, and labels
Interior graphics instantly freshen up your hotel, from custom graphic wall art to distraction film. Update your fitness center with vibrant wall art in any look you want. Distraction pattern film is great for modern glass walls, conference room windows, or anywhere you want an eye-catching design. We design custom logos and labels for walls and windows, from your hotel's logo to room numbers.
Solar Art's professional team is ready to update your hotel while saving you money and making your guests more comfortable. Talk to us today about the best window and wall films for your needs.