Glass Company Logos
Hi everyone! Our past few blogs have had a heavy focus on the specifics of decals and logos. In today's blog, we are going to continue talking about product specifics, and this time it's going to be on glass logos. Here at Solar Art, we work with a lot of different types of customers on getting glass logos installed to their businesses or commercial space.
For this blog, we interviewed our graphics production manager, Jamie, to get the details on what the glass logo process is from his perspective in the graphics department, as well as what the customer's perspective is from start to finish. Keep on reading to learn Solar Art's processes and the specific details of what goes on in a glass logo installation!
What is the process of getting a glass logo?
The very first thing we are going to talk about for glass logos is the process. At our headquarters in Laguna Hills, California, we are lucky enough to have our own in-house graphics department where we create and produce all different types of custom graphics, glass logos included.
When it comes to the process of getting a glass logo or any type of custom graphic installed, Jamie said that our graphics department has a specific process and procedure in place so all graphics jobs are done the same way. Having a streamlined process for all graphics jobs is important because of the detail that is needed.
The first part of the process is having a sales representative go onsite to gather the details and measurements for our graphics department. Jamie said that when it comes to details and measurements, first and foremost we need to know the exact size of the glass and how big you want your glass logo to be.
In addition to knowing the size of the glass and glass logo, our graphics department also needs to know any other additional information. For example, a lot of commercial glass doors have a metal kick plate. Our graphics department needs to know the measurements of the kick plate as well as the framing around the door, etc. Having and knowing all of these details helps our graphics department ensure you get exactly what you're looking for and your glass logo fits perfectly on the glass.
Once our graphics department has the measurements and the details, they can put together a proof that will show the customer what the glass logo is going to look like in their space (we will go into more specifics about proofs later on). The final step in the process of getting a glass logo installed is the actual installation. Once the proof is approved, our installation team is good to go with the glass logo installation!
How do we make sure all of the glass logo details are correct?
We just talked about how important having all the measurements and details are, but what do we do with them once we have them? Great question! We have a graphics worksheet that we created a few years ago specifically to keep all the graphics details for our team to create and produce glass logos.
This part of the blog is going to be a little more technical, but it can give you as a customer a good idea as to what goes on behind the scenes of your glass logo installation so you can have peace of mind knowing your job is going to be done correctly the first time.
The graphics worksheet includes all the different details and components that are included in a custom graphics installation. We asked Jamie what the most important part of the graphics worksheet is for the graphics department and he said that the estimator makes sure all of the details and information are there.
Things like making sure the first and second surface are filled out correctly, everything is super clear, and providing as much detail as possible are also extremely important. The graphics worksheet has a ton of room for the estimators to write everything from the material, to the glass type, etc. To round out this question, Jamie said to put it simply, making sure all of the information is there is the most important part because it makes the process quicker and easier for everyone involved…and who doesn't love easy?!
What is a proof?
A proof is a drawn to scale document that our graphics department creates for a customer so they can see what their custom graphic or glass logo is going to look like in their space. Proofs are so important when you can't show a customer face-to-face what a glass logo or custom graphic is going to look like because it allows the customer to digitally see what the final product is going to look like.
Jamie talked about how the customer can make the custom graphic or glass logo bigger or smaller based on the measurements provided on the proof or make any other changes they would like before it is sent to production.
Can Solar Art create a glass logo?
We are lucky enough to have an awesome in-house graphics team. If you already have a glass logo design in mind, they can bring that vision to life for you. If you don't have a glass logo designed already, don't sweat. They can work one-on-one with you to help you create the perfect glass logo for your business. In either situation, the customer is sent a proof so they can see what the glass logo is going to look like and approve the work to be done!
What materials are used to create glass logos?
When it comes to the different materials that are used in creating glass logos and custom graphics, you have a few different options. You can choose to have your graphic created on opaque window film, which means you won't be able to see through it at all. You can also have your graphic created on a translucent or clear material that does allow you to see through it.
When it comes to custom graphics there are print graphics and cut graphics. A wall mural or one image is an example of print graphics. Glass logos and store hours are an example of cut graphics because you have to cut the shape and design out of the opaque or translucent material. We understand this terminology is tricky, so don't feel like you have to fully understand it or know exactly what type of custom graphic or logo you want. Jamie or anyone in our graphics department can help you and walk you through the entire process!
Frequently asked questions about glass logos
Solar Art gets a lot of frequently asked questions from our customers in regards to glass logos and custom graphics in general. Since Jamie is our graphics production manager and is heavily involved in all custom graphics jobs, he is the perfect person to help address a couple of our most frequently asked custom graphics questions!
Does the color look the same in person as it does online?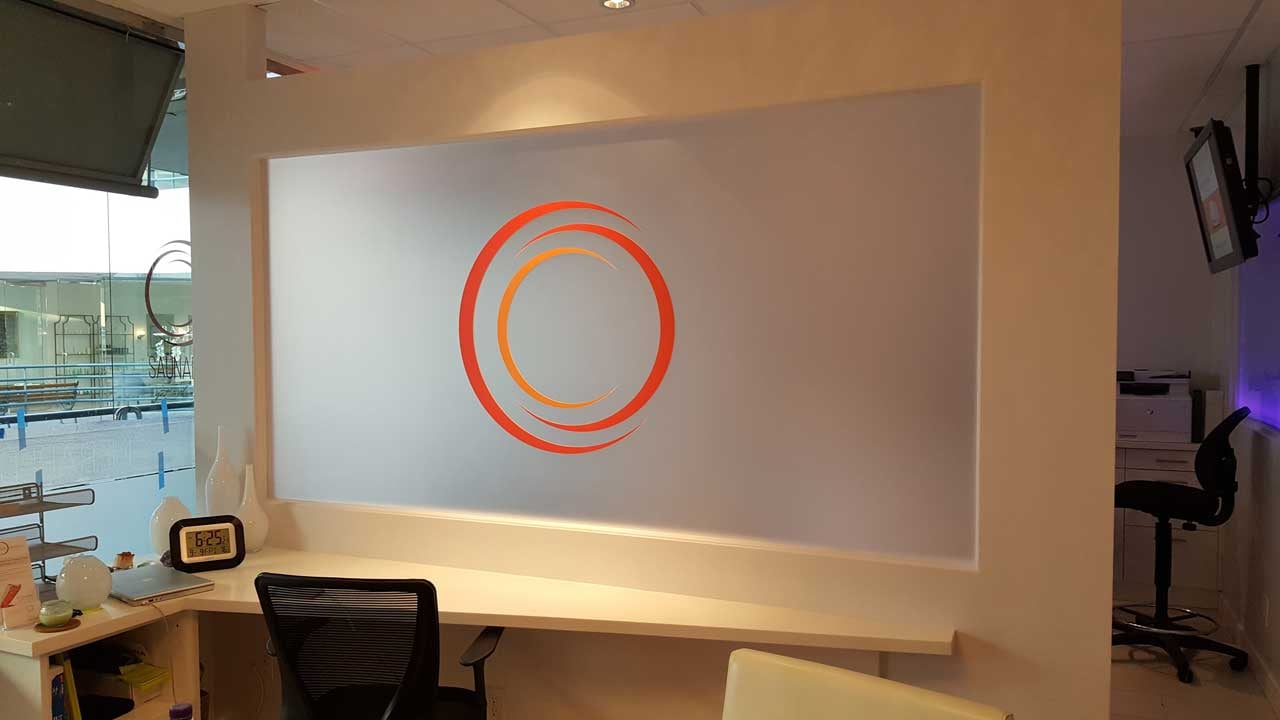 Our customers frequently ask if we can make a glass logo exactly match a color they see online. For this question, Jamie explained how seeing colors online are different than seeing them in person. Jamie said that since the colors are different, he likes to send our customers color samples so they can see the different variations so they can pick the right color for their glass logo and feel confident that their glass logo is going to look exactly how they thought it was going to.
How long does it take for a glass logo to be installed?
When it comes to glass logos, there is a process involved that we have been talking about throughout this entire blog. Our sales representative has to meet the customer onsite to learn what they are looking for specifically and gather all the details.
From there, our sales representative gives the details over to Jamie and the graphics department to create the proof. Jamie said that from start to finish, on average, a graphics job takes five days until the proof is approved. He said that it can take longer, up to 2-3 weeks for design time if we are creating the glass logo from scratch.
Once the proof is approved, we are ready to go with production and Jamie said that the production time is usually anywhere from 1-3 days! Once it's produced, it's ready to go on the installation calendar standard glass logo installations are scheduled 7-10 business days out and bigger jobs are scheduled out 14 days.
Solar Art Can Help With Your Glass Logo Installation
That's a wrap with our glass logo blog! We hope we answered any questions you might have in regards to glass logos, what the process is like, and what Solar Art can create. If you are interested in learning more about glass logos or think it would be a good fit for your business, contact Solar Art today for a free quote!